Here is a cautionary piece by Dr. Roberto Cintli Rodriguez. Yes, racists were there for Trump from the very beginning. Let's do remember though that Trump lost

the popular vote by millions and won the electoral college vote by a razor-thin margin of about 78,000 out of 14 million or so in three states—Michigan, Wisconsin and Pennsylvania. His values are not those held by most Americans, thankfully.
That said, to my many friends and family in Arizona, brace yourselves for Trump's visit there today.
-Angela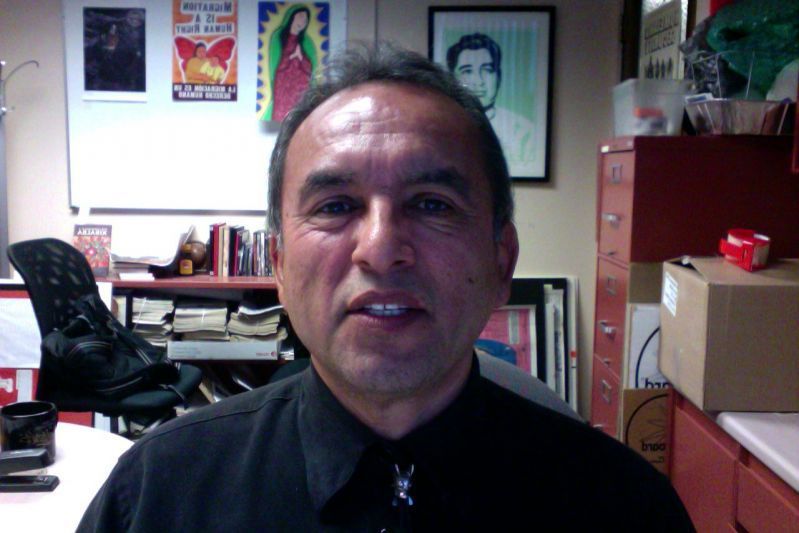 First he came after the Mexicans, and you did not speak out.

Then he came after the Muslims, and you did not speak out.

Then he came for the blacks, and you still did not speak out.

Who can forget that when the president launched his campaign in 2016 he called Mexicans rapists and criminals? And who can forget that his calls for a wall to be built along the U.S.-Mexico border, with Mexico paying for it, would be what would galvanize his base, especially at his campaign rallies where such chants would come to dominate his events that resembled more like pogroms than rallies?
I remember thinking at the time that if this flamboyant presidential contender had said similar things about any other group in the country, his campaign would have been doomed from the start. There was no huge outcry by this nation's body politic, and instead, the mainstream media flocked to him for "exclusive" interviews or special guest appearances for this new celebrity candidate.

By the time he staged a campaign rally at the Tucson Convention Center in March of 2016, there was no ambiguity about his politics. As such, there was a huge protest. I was present, and as I filmed the standoff between his supporters and the counter-protesters, I found myself near the entrance. Out of the blue, a Secret Service agent demanded to know if I was going inside or staying outside? I ended up inside. And what I saw and filmed in there radically changed how I saw his campaign.

What I learned there was more about his supporters than about him. To put it mildly, it was white racial supremacists unleashed; an orgy of extreme hate.

Before the keynote speech, the audience was egged on, first by Sheriff Joe Arpaio and then Gov. Jan Brewer. The atmosphere was viciously anti-Mexican. Beyond the periodic "build the wall" chants, and beyond the anti-Mexico rhetoric, the real ugliness was that this unleashed hate was directed at Mexicans themselves.

Bedlam could not begin to describe the frenzy. All during this time, the audience verbally attacked people of color over and over. But let me rephrase that. During this hate spectacle, people of color stood up. I first saw two courageous black women take on all comers, and they were taunted and harangued in a most vicious way. And then for the rest of the event, it was pretty much Mexicans/Native peoples, that did the same.

The bravery I witnessed in the face of white racial supremacists was inspiring.

Outside, it was a whole different scene, but the counter-protesters were just as defiant. For days after that, many people kept telling me that I didn't really see what I saw. They kept insisting that both sides were identical. In fact, some continue to tell me that they respect the president and his supporters because at least they are out front with their views. I can tell you that there is zero to respect about them, whether they are hiding or upfront about their racial supremacist views. If anything, they are basically preaching the message of ethnic cleansing and genocide.

As I saw the rallies in Charlottesville, it was the same hate I witnessed firsthand in Tucson.

The one thing I will agree with is the idea that the president is not actually hypocritical; from day one, he told the world precisely what he stood for; it is just that not everyone was listening.

And now he's coming to Phoenix — to pardon Arpaio, maybe? Lord help America.